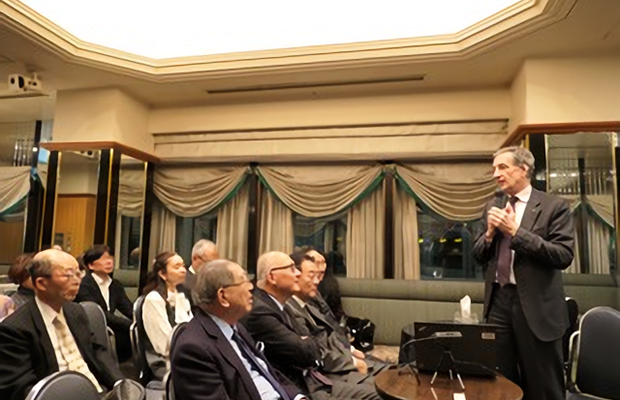 After joining Michelin's headquarters, Mr. Delmas was assigned to Nihon Michelin Tire Co in 1985, and served as President of the Nihon Michelin and President of CCI France Japon. Currently he is Chairman of Nihon Michelin and Administrator of CCI France Japon.
Firstly he presented the history of Michelin through video, and then introduced the Michelin Group, and the Japanese subsidiary. Tires of the Haneda Monorail, which started operations in 1964, were made of Michelin, which led to the establishment of Nihon Michelin Tire Co., Ltd. in 1978.
In 1900 Michelin Guide was issued as the first restaurant guidebook in France, and it covered all the information needed to travel in France, including gas stations, repair shops, hotels, and restaurants. Its own restaurant evaluation method has been thoroughly applied until today. All surveyors are full-time Michelin employees, and experts trained in accordance with the Michelin evaluation method evaluate with full independence. Surveyors apply the same assessment criteria anywhere in the world.
The noteworthy 5 evaluation standards are: the quality of the material; the level of cooking expertise and perfection, originality, cost performance, and consistency of the whole stable dishes.
In Japan, Michelin Guide was issued for the first time in 2007. Michelin Guide Tokyo was issued in 2008, Kyoto and Osaka in 2011, and Hokkaido in 2012. As restaurants are scattered around in Hokkaido, it took as long as 18 months to conduct the survey. Detailed data are omitted, but the numbers of one star, two stars, and three-stars restaurants in Japan are higher than those of France, but it is true that France is more in population per capita.
Mr Delmas enthusiastically lectured as to why Michelin the tire maker started to publish Michelin Guide and how they maintain professionalism today.